Explore Oceana's Midcentury Magic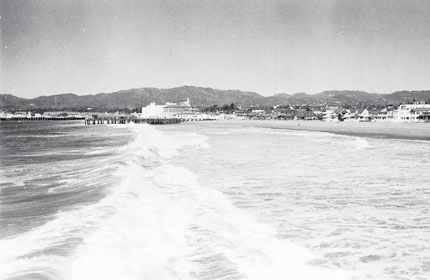 In the 1950s, the luxurious Oceana Apartment Hotel was "California's newest apartment hotel." Hand-lettered advertisements pitched its private balconies, TV, maid service and ocean views. Such amenities and services captured the attention of none other than Stan Laurel (one half of the comedic duo of Laurel & Hardy), who moved to Oceana in 1958 with his wife Ida. He entertained dozens of celebrity friends in apartment #203, including Jerry Lewis, Dick Van Dyke and Marcel Marceau, and answered thousands of pieces of fan mail, correspondence that is enthusiastically collected by his admirers.
Today, the very things that drew Laurel to 849 Ocean Avenue remain central to the Oceana experience. With a nod to its history and heritage, this sumptuous beach haven nestled in the heart of Santa Monica still features airy, suite-style accommodations that take full advantage of the Palisades Park and Pacific Ocean views, vast picture windows that open to let in the sea breeze, and a courtyard of swaying palms surrounding a freeform swimming pool.