Skip to Content
FIND INSPIRATION IN OUR ELITE
EVENT VENUES IN SANTA MONICA.
MAKE ALL YOUR EVENTS MEMORABLE. EVEN MEETINGS.
Perfect for special events or giving team meetings a productive change of scenery, our intimate event venues in Santa Monica provide a breathtaking setting for celebrating or getting things done. We'll work with you to curate an event experience that your guests will talk about for years to come.

Whether you're dreaming about your Southern California beachfront nuptials or creating an invigorating team re-set with an oceanfront backdrop, our four distinct event areas provide breathtaking settings for your most important moments. Discover more about our event spaces here.
After all, everything is better by the beach.
OCEAN VIEW BOARDROOM
A MEETING SPACE WITH A VIEW THAT'S ANYTHING BUT BORING
A tech-forward, private-balcony boardroom with smart technology and Anna Busta-designed interiors. Explore our 360 virtual tour of the Ocean View Boardroom here.
AMENITIES
Boardroom Seating for up to 8 High-speed Internet Access
Private Oceanfront Balcony
State-of-the-art A/V Services
Farm-to-table Catering Menus
Reception Style for up to 25
65-inch Smart Technology HDTV
En-suite Wet Bar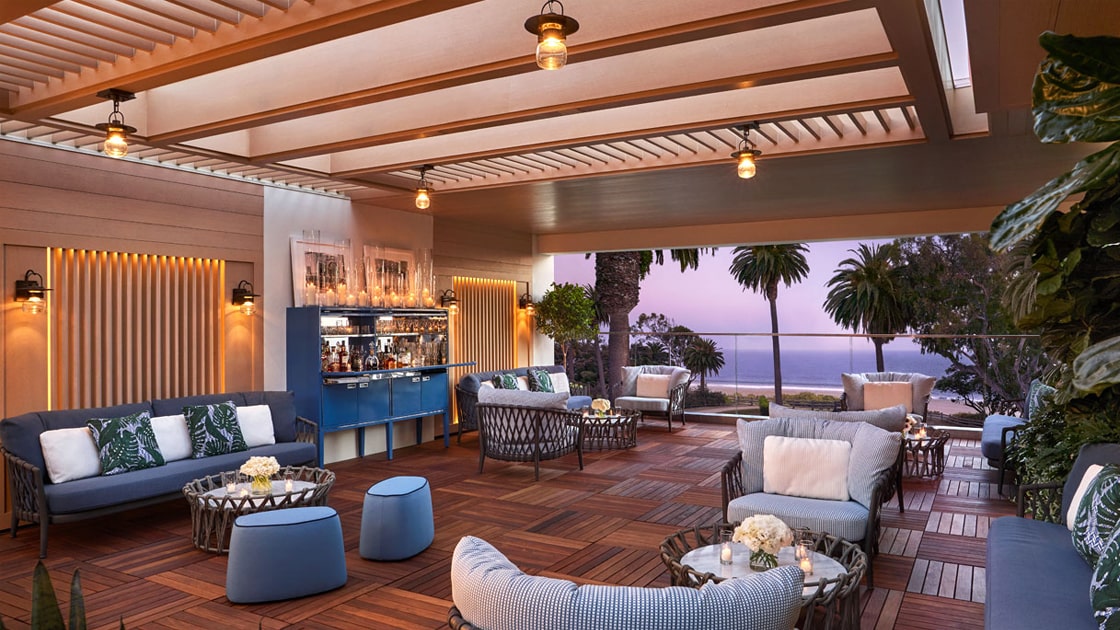 SUNSET TERRACE
SWEEPING PACIFIC VIEWS IN A TROPICAL, OPEN-AIR SETTING
With panoramic views of the Pacific Ocean, Oceana's Sunset Terrace is the perfect rooftop to relax, imbibe and enjoy the majesty of the sun sinking into the horizon.
AMENITIES
Casual Seating for up to 20
Ideal for Open-air Socializing
InfraRed Ceiling Heaters and Outdoor Fireplace
Stunning, Rooftop Ocean Views
Catering Featuring Fresh Coastal California Cuisine
Reception Style for up to 40
High-speed Wireless Internet
Farm-to-table Hors D'oeuvres and Handcrafted Cocktails
SANDPIPER DINING ROOM
PRIVATE, OCEANFRONT DINING CELEBRATIONS TO REMEMBER
A luxe, spacious dining experience serving farm-to-table California cuisine in a gorgeous indoor-outdoor setting.


AMENITIES
Seating for up to 30 Indoor-Outdoor Space Perfect for Work or Play
Private Dining for up to 10
High-speed Wireless Internet
Reception Style for up to 70
Catering Featuring Fresh Coastal California Cuisine
POOLSIDE VERANDA
A COURTYARD OASIS FOR BESPOKE GATHERINGS
A tech-enabled outdoor courtyard with fire pits, James Perse teak furniture, and al fresco style perfectly suited to impress your most important guests.
AMENITIES
Casual Seating for up to 12
Ideal for Open-air Socializing and Poolside Dining
Lush Cascading Fountain and Outdoor Fireplace
Catering Featuring Fresh Coastal California Cuisine
Reception Style for up to 20 Farm-to-table Hors D'oeuvres and Handcrafted Cocktails