Skip to Content
DISCOVER OUR DISTINCTLY
SANTA MONICA RESTAURANTS
DESTINATION DINING WITHOUT LEAVING YOUR HOTEL
Explore three distinctive restaurants and bars, plus private and in-room dining, serving up creatively composed, chef-driven cuisine. Even the most refined palettes will find complete epicurean satisfaction in a selection of locally sourced artisanal offerings, made to enjoy in quintessentially Santa Monica restaurant settings.
Oceana's intimate, exclusive culinary experiences celebrate Southern California's bounty through sophisticated, imaginative cuisine by pairing locally sourced produce and artisanal purveyors from Santa Monica Farmers Market with an exquisite ambiance. Oceana's acclaimed chef marries hyper-local flavors with exquisite craftsmanship for a refined farm-to-table experience like no other. The elegant, airy interior and exterior settings meld with the nearby beach for a setting as iconic as the menu.
The Holidays at Oceana
Join us for Thanksgiving, Christmas and New Year's Eve to enjoy exquisite holiday cuisine with friends and family. Plus fun events for everyone, like live music on the veranda for Thanksgiving and kids cookie decorating with Santa on Christmas. 
SANDPIPER
OCEAN VIEW DINING ROOM
There is no place like home – except Sandpiper, our Ocean View Dining Room. Oceana's main restaurant sets the scene for an intimate dining experience reminiscent of your own private beach home, but with the added comforts of 5-star service and elegant cuisine. As an homage to its picturesque seaside backdrop, the Ocean View Dining Room is decorated in a soft palette of pastels with an illustrious onyx-clad bar to provide a modern twist. For guests looking for a more intimate gathering, we invite you to reserve our private dining "nook" with seating for up to 8 of your most discerning friends.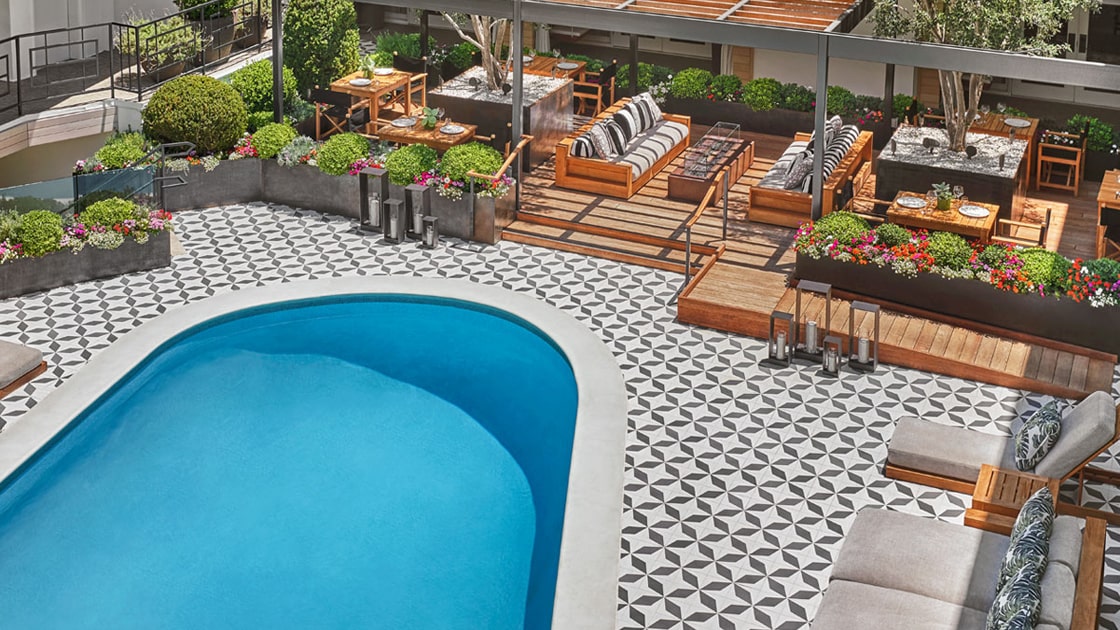 THE VERANDA
POOLSIDE DINING
There is no better venue for al fresco dining than The Veranda at Oceana. Here, guests are able to enjoy full access to Oceana's breakfast, lunch and dinner menus with one major perk – you get to dine poolside! Whether you prefer to recline in one of our James Perse chaise lounges or to cozy up by the outdoor fire pit, The Veranda is the perfect locale to exercise your refined palette while taking advantage of the always sunny Santa Monica.
SUNSET TERRACE
ROOFTOP LOUNGE WITH PANORAMIC OCEAN VIEWS
With panoramic views of the Pacific Ocean, the Sunset Terrace is the perfect rooftop lounge location to relax, imbibe and enjoy the majesty of the sun sinking into the horizon.
IN-ROOM DINING
FINE DINING MEETS COMFORT
Try our signature avocado toast for breakfast, a "beach body" salad for lunch or a romantic evening for two in the comfort of your own suite. Whatever you're craving, our culinary team has you covered. Enjoy Santa Monica's best restaurant without leaving your room.